7007 Oaks in Thorum
by Lene Noer og Birgitte Ejdrup Kristensen
In Thorum, the residents were not interested in new art works, per se. They were content with things as they were. Nonetheless some of the residents had been working for years on establishing a village forest. When we met the residents of Thorum, the project had unfortunately stalled, due to a lack of financial support. So what could Grasslands contribute here?
Our point of departure was to create works based on something that was already in progress. So it was obviously a good idea to gain inspiration from the village forest if a new art work for Thorum was to become a reality. With the idea of continuing the German artist Joseph Beuys work 7000 Oaks, the vision of the village forest was revived and simultaneously an artistic dimension was added that aspired beyond the village boundary. This suggestion for an art work was accepted by the residents of Thorum with a sigh of relief. After all, it would only be seven stones, and it could have been much worse!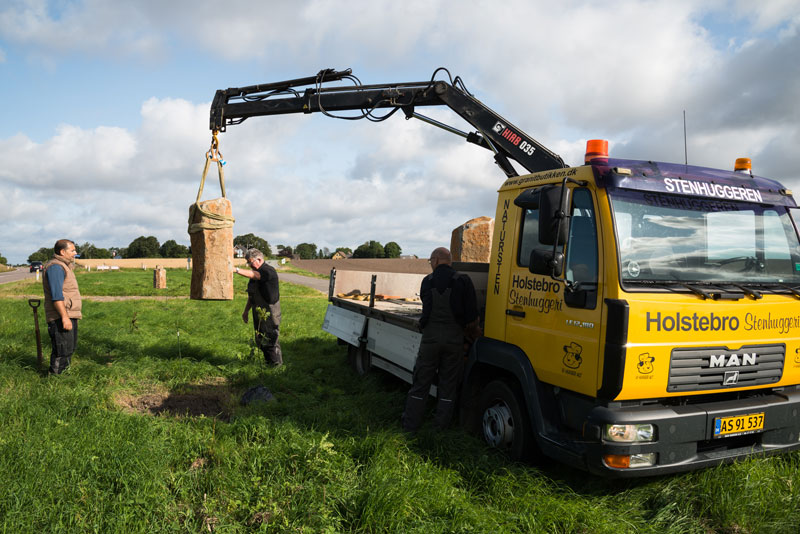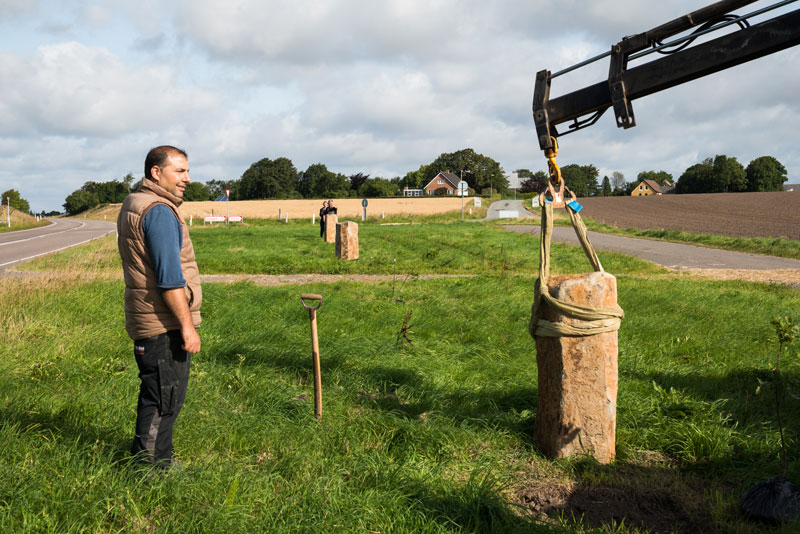 Foto: Kurt Nielsen
We met with the State Horticulturalist in Skive, who gave the final push in the securing of financial support. 7000 trees were planted on the former sports grounds in the centre of the village and, in connection with a small get-together where we brought coffee and cakes, the last seven oak trees were planted in an area decided by the residents, close to the entrance to the village. Nordic Granite in Skive had proudly raised the metre high basalt stones just before and now, surrounded by the presence of history unfolding, they silently witnessed the event.
Consequently Thorum and the Fursund region are now connected to the worldwide art project 7000 Oaks that Beuys initiated in 1982 in the German city of Kassel.i He did this by placing a pile of 7000 basalt stones in front of the city museum. As oak trees were planted around the city by residents, the basalt stones where one by one erected as a marker for the freshly planted tree. Beuys idea contained the possibility of a worldwide spread of oak trees with their associated basalt stones, and today these oaks can be found around the world, in among other places, New York.
Through crowdfunding, the work 7007 Oaks can potentially leave its mark on the entire Fursund region, which is characterised by intensive farming, leaving few trees in the landscape, with a range of environmental and aesthetic issues as a result. Life in the villages is, to a large degree, about what occurs between the villages, where the landscape today is largely regarded as a modern factory.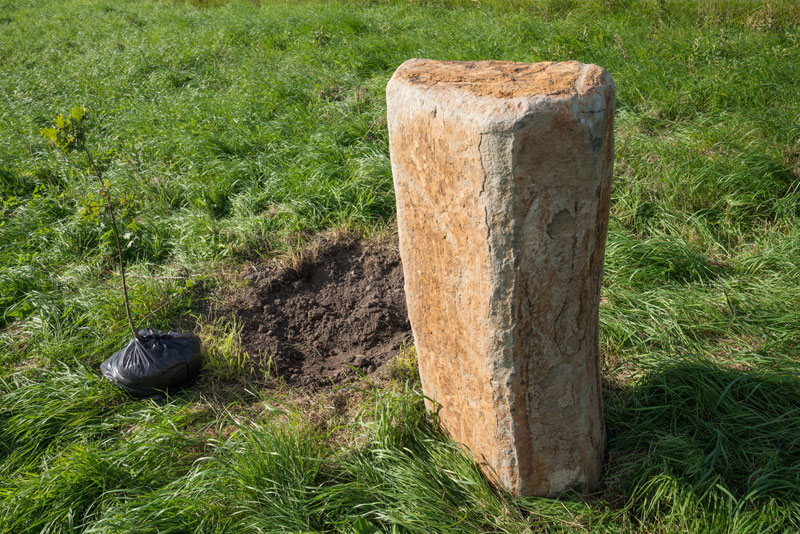 Foto: Kurt Nielsen