Interview with the residents of Åsted
by Trine Rytter Andersen
I meet Hanne Bavnsgaard, Tove Lillian Prüsse Gravesen, Simone Bech, Bodil and Helge Pinholt and Bo Futterrup at Pinholdts farm, close to the village of Åsted. We meet under the parasols, sheltered by the trees and bushes in their large courtyard, for afternoon coffee and cake, in front of the farmhouse.
The residents present their personal backgrounds very thoroughly, emphasising their expertise and connections to the area. I have condensed this below: Bo Futterup; self-employed with his own company in Åsted, local and married to an outsider. Hanne Bavnsgaard; former employee at the furniture factory, now working as a child minder, local and married with a local. Bodil and Helge Pinholt; run their own company from a farm North of Åsted. Both are locals. Tove Lillian Prüsse Gravesen; former head of Home Care, together with her husband moved to the area. Simone Bech; former nurse, moved to the area, self-employed and married to a local farmer.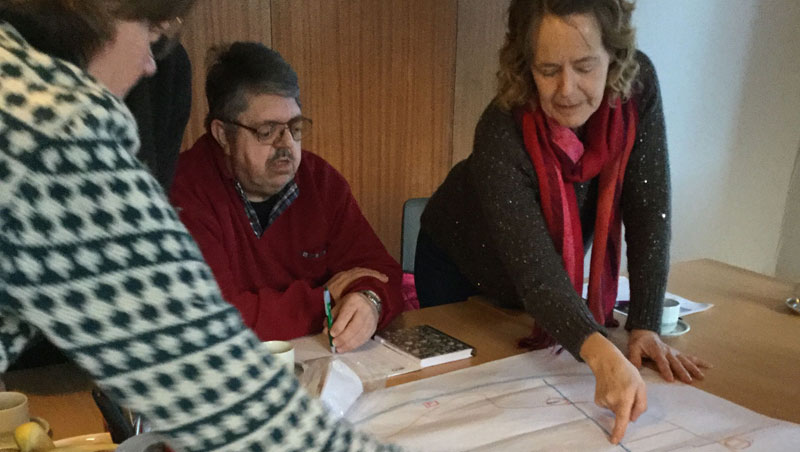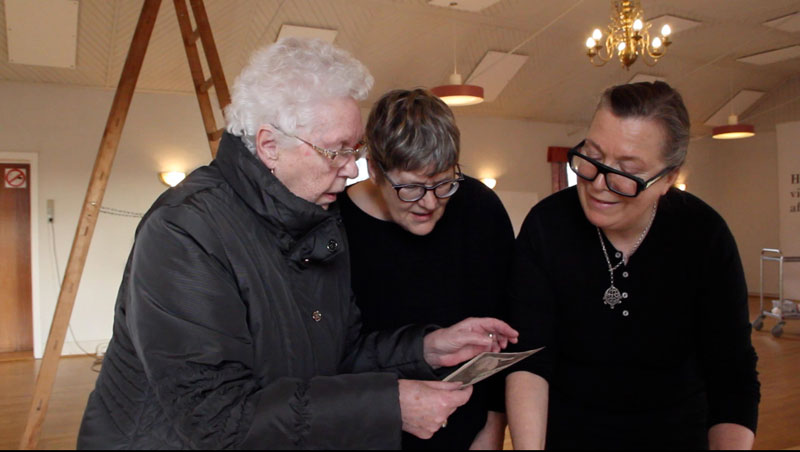 Third time lucky!
Our first reaction to Grasslands was on a practical level: this sounded exciting. This was something we wanted to support. We're generally open to new ideas. We've had similar initiatives focussing on village rejuvenation and life in rural areas twice before, without any noticeable results, so with Grasslands we decided: "third time lucky". Nevertheless, there were a number of prejudices around "those artists" and there were a little too many rumours flying about in the beginning. We all knew someone in Selde, and knew that their art project hadn't gone down so well with some of the locals. In the beginning we had to simply find out how it was all going to work, and therefore we got off to a slightly slow start: on the one hand we wanted to be able to influence the proceedings and on the other many of us had a feeling that there was already a "plan of action" in place in advance, and that this would put off people who had trooped up in the initial stages.
It turned out that the "plan of action" was something we had to create ourselves. There were several meetings and a workshop about Åsteds DNA, for which we found old pictures from the archives, and people with roots in Åsted and the surrounding areas supplemented with private photographs. This led to the idea of the gable wall murals.
For every gable mural, a party
Gable wall murals on our houses! "No-one is going to volunteer their house for that!" is what many of us thought. But actually, there were, and now there's even more who want their walls used for new murals.
The whole village has experienced how much fun it is to make them at night, with all the things you need: projectors, cooperation, materials, labour and then beer, wine, coffee and cake. What an amazing atmosphere! And when it rained, we had to help each other find creative solutions so we could paint under shelter. The nicest thing of all is that it is perfectly legitimate to just troop up, look on, and be curious when the paintings are being made. In that way EVERONE can be involved, the atmosphere spreads to the whole village and people driving by stop and ask "What's happening here?" Some people park, get out and end up hanging around. When we were painting the 'digger', some people on their way home from the Festival of Culture on the island of Mors passed by. They came to a screeching halt, reversed and wanted to know what on earth was going on. That was funny!
New life – new perspectives
The process that Grasslands kick-started has functioned as a "boost" for the village of Åsted! Particularly for the older generation. We have revived stories from earlier times: some people participate with their own personal stories and history, others as part of the positive story of this village. We've something to share again. And not least, we've been given the opportunity to brighten up the village, in an educational and fun way. It's been infectious and encouraged involvement, especially for people who have moved here and are our age. Here's something we shared: a desire to improve the village and an interest in the lives and former times here.
We were given an opportunity to challenge the attitudes and prejudices that prevail in some quarters about the idea of a "peripheral Denmark" and about rural living in general. And also the more local scepticism, the sort of "are you from Åsted? You couldn't possibly live there!" got a drubbing when the murals were finished.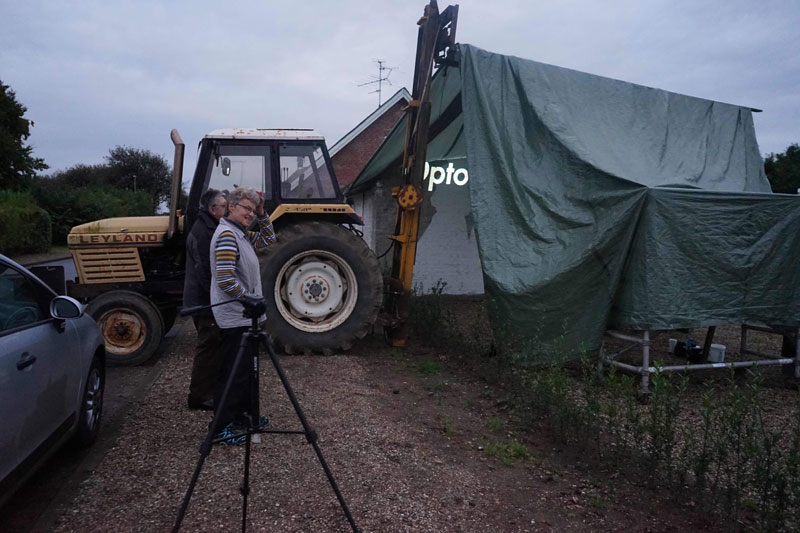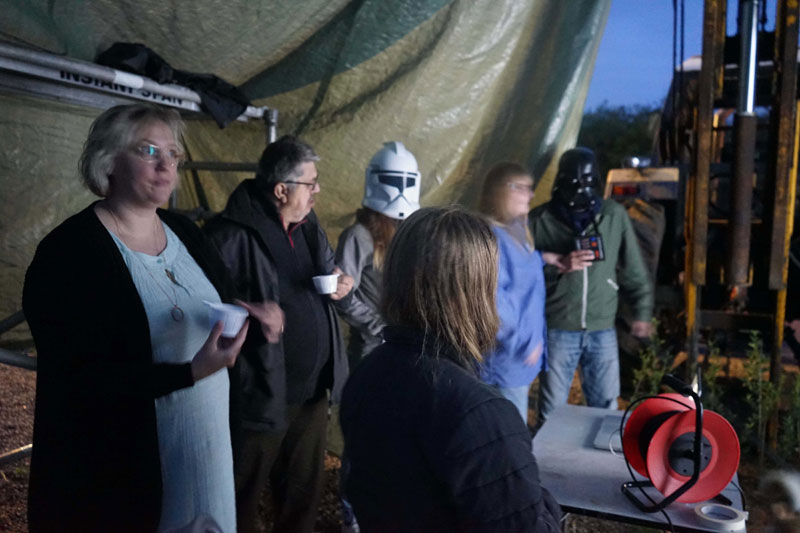 Positive attention
This rubs off on us of course, and on the attention Åsted gets in the nearby areas. We have a Facebook page: Gable Murals in Åsted, which also has drawn lots of attention.
Rural Forum – an enormous surprise
Rural Forum, held last year at Østergaard, was a fantastic experience involving everyone from the village. We'd been invited to participate, which many of us did and which we got a lot out of. In reality we had no idea what it was we were arranging. The purely practical side of it was much easier than what the artists and researchers were coming with. We just threw ourselves into it and helped each other in a good way, and little by little, we realised what was going on. Imagine that, here in the medieval castle Østergård in Åsted, people from nine countries (including an EU Commissioner) were gathered to discuss rural development. The workshops we participated in gave us so much new understanding – we were totally high!
The trampled path
The Trampled Path is another good example. Students from Krabbesholm Folk High School came here and trampled back and forth for 24 hours (interrupted only by a torrential downpour). The students thought it was marvellous to walk from sunset in the beautiful landscape, all night with burning torches in the summer twilight to a very dazzling sunrise.
Some very special outsiders
It is important for us to point out that the fact that two outsiders have come here and facilitated these things in the form of money, good connections to various authorities and a broader perspective on things has been crucial to the developments. We would never have supported "one of our own" who had dared to stand up and say "here's what we're going to do". But when strangers come tramping on to the scene, in just the same particular and very fine way Birgitte and Lene did, then something takes place, then we'll support it and things can begin to happen! At the same time it is important to emphasise that it's not only us who have learned something from this process: just ask Lene and Birgitte if they haven't learned a thing or two along the way too. Lene, Birgitte and Leo are unbelievably nice and helpful. AND they've learnt a lot about talking to and with us and not being too abstract. They have the visions that enrich us and we have the labour that they need – ergo: we both need each other and are enriched by each other.